Introduction
It all started, when on an earlier trip to Belize, I picked up an old copy of The Rough Guide to Guatemala in a coffee shop and started reading some passages. In a section on Mayan Ruins, there it was – a description of a Mayan site that I had not heard of before. It was only a few sentences and what it described was a two day hike through the jungle, which would end at the largest city in the ancient Mayan world. It was called El Mirador and it was home to the largest pyramid in the word, even bigger than the pyramids that are in Giza, Egypt. The seed was planted, I had to go.
Several years later, I was back in Belize with plans to stay several months. I was between jobs and planned to take a break from the grind. I had been back in Central America several times since, but usually for short stays. I would usually use my time to visit in Belize and to make my way to Honduras to scuba dive in the Bay Islands. On one stopover in Flores, in Guatemala, I ran into two American travelers who had just returned from a trek to El Mirador. "It's Amazing, you have to go," they told me.
El Mirador is located deep in the jungle on the northern edge of Guatemala.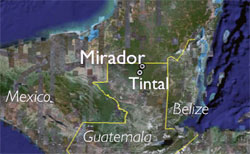 Now that I was back in Central America with time on my hands, I was resolved to make it to El Mirador. It was the month of January and therefore somewhat cooler than the sweltering summer. Now was the time. I packed my bags and headed towards the western border of Belize on my way to Flores to find a tour (or some way) to get to El Mirador.