On the Trail
We were up early in the morning and got to eat a small breakfast. We again headed off on the trail at 7 A.M. sharp. Since we had stopped early the previous day, we would need to make up time on the trail and trek the bulk of the distance on this day. I was hoping against hope that there would be less mud and the going would be easier on this end of the trail. No such luck. Again, I was sloshing through mud that, at times, came up to my calves. And again, I lagged behind while the rest of the group surged forward. I am thin and had always considered myself to be in relatively good shape, but now I was reconsidering. I definitely was not as well prepared for this adventure as I would have liked.
Mercifully, our guides would let us stop for periodic breaks where we could regroup, have some water, and maybe a snack. But the breaks were always short and we had to forge ahead through ever more and more mud. Every time there was a break in the mud, and I could walk on solid ground, I thought it was over. Then, very quickly, it would reappear, worse than before.
At some point in the afternoon we came to what would technically be called a puddle or a pond, but what I referred to as a the lake. It was a large mass of water that intercepted the trail and there was no way around. We had to walk through the lake in water up to my waist to get to the other side of the trail.
Muddy, soaked feet!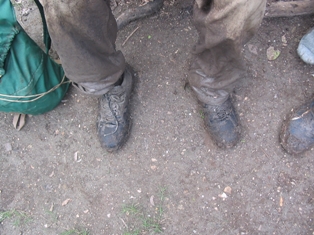 Horse, mules, and Nino in the center.