Delay
The island of Flores, Guatemala.
I arrived at Flores and asked around about tour guides to El Mirador. Flores, in the Guatemalan state of El Peten, is actually a picturesque island in the middle of a lake outside the larger town of Santa Elena. It is connected to the mainland by a large causeway. Water-taxis also ferry people across to other points along the lake. Most tourists coming to Flores come to go to the ruins at Tikal, an hour away by minibus. These are perhaps the most famous of all Mayan ruins, with their easily recognizable towering pyramids. They are perhaps most famous for being used by the movie director George Lucas as "The Rebel Base" in the very first Star Wars movie. The TV show Survivor also filmed one of their seasons at Tikal. I had already been to Tikal years earlier on my first trip to Guatemala. I was now searching for a more exciting and thrilling type of adventure.
Antigua, Guatemala.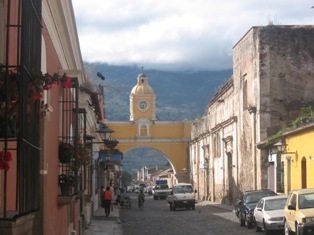 Through an initial contact I had made via an e-mail to a hostel, I arranged to go on a tour that was leaving in several days. Unfortunately, the tour was immediately delayed by a week due to some unforeseen circumstance by the people who had initially organized the tour. With an extra week on my hands, I decided to head off towards Antigua, the popular colonial city outside of the capital. I hopped on an overnight bus to Guatemala City.
Lava and tourists at Volcan Pacaya.
After the long bus ride, I immediately hopped on my waiting shuttle and arrived in Antigua early in the morning. Antigua is a beautiful town with old world architecture, churches, restaurants, a large town square, and a surprising amount of (north) Americans and Europeans. I spent my time exploring the town, going to bars, and re-acquainting myself with the charming city. I also went to see the active volcano, Volcan Pacaya. I had been there 8 years earlier and I was amazed to see the differences the volcanic formations had made in just that short amount of time.